Bob & Shirley Sullivan's Legacy
Robert S. Sullivan (Bob) and Shirley K. Sullivan were a dynamic professional drag racing team out of Kansas City, Kansas - a pioneering race team. They raced and set records for 32 years between 1941-1973. With their Pandemonium racecars they blazed a winning trail from coast to coast.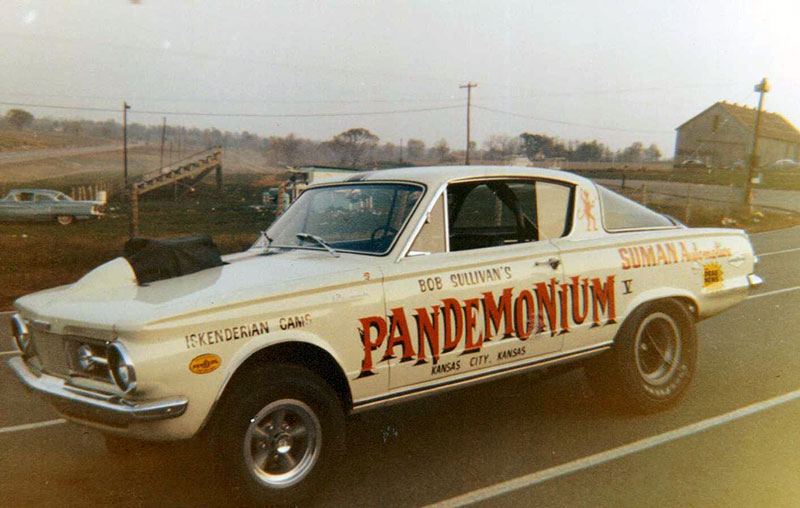 Bob was the racecar driver, chief mechanic and technical expert while Shirley, his wife, was the pit crew and business manager. Bob was known advocate of safety, appearance and workmanship of their racing cars. As the sole member of the pit crew, Shirley cleaned the plugs, packed the parachute, helped with refueling, staged the racecar and served as the push car driver.
The Pandemonium Began
Shirley christened the racecars the "Pandemonium" and chose a humorous red devil as the logo for the Pandemonium enterprise. Over the years one roadster, one Rod Stuckey first concept rail dragster and nine record setting Pandemonium racecars, initiated new designs and contributed to improving mechanical and racing standards.
In 1941, the Sullivans began as young racers did in the early years street racing Plymouths and Oldsmobiles. In 1951, they built there first competition roadster and officially joined organized Drag Racing. In 1953 they helped form the first sanctioned Hot Rod club in Kansas City, Kansas known as "The Dragsters". In 1954, their club merged with another club to form the Kansas City Timing Association. This same year Bob and Shirley acquired their first A/Gas rail dragster. In 1955 they started building their first A/fuel all aluminum body dragster.
They raced A and AA/fuel dragsters for tn years (1955-1965) before inaugurating their first Funny Car in 1965. Sullivan's major wins began in 1954 when he won and set the top time for the NHRA Midwest Regional meet in Scribner, Nebraska. In 1959, Bob became a full time professional drag racer competing in the Drag news Invitational Tour of the U.S.
His first national AHRA competition win was in 1960 at the Summer Nationals in Kansas City, Missouri. The following year at the AHRA Summer Nationals in 1961 he set top time and low e.t. In 1963 and 1964, Bob was the first drag racer to win back to back AHRA Winter Nationals. During this period also winning three 1/8-mile championships (1961, 1963 and 1964).
After winning and setting dragster records from Coast to Coast, the Sullivan's were ready for a new challenge and a new adventure with funny cars. The Sullivan Race Team debuted their first funny car, which was a 1965 factory steel bodies Barracuda. In 1967, the first funny car to run nationally over 190 mph in the 1/4 mile. Bob and Shirley Sullivan successfully campaigned five funny cars, five dragsters and one hot rod during their outstanding racing career.